BRYCE TAYLOR 01



Hiding In Plane Site
Housing Block Las Vegas
Collaboration with Adin Rimland



Visual Baffling Techniques
Two versions of world at once...


The computer vision systems that survey, catalogue and archive the world around us are services that render two versions of the world at once. There is now the physical space that we occupy and the digital rendition of that space that we, increasingly more frequently, also occupy. The urban landscape is mediated by handheld cartographic instruments that help us navigate through transportation systems, call upon networks of drivers, occupy strangers homes, or find potential lovers. The digital interface for social exchange and monetary transactions has radically shifted how we act and consume. In the negotiation between the built environment and the variety of computer vision systems that move through it, there is a margin of error that architecture has the potential to occupy.

Stereogrammetric Reconstruction of suburbia
The Typical Suburban Unit
The New Suburban Under one Roof
Perspective Section of Camouflage Suburbia
Aerial Drawing of Las Vegas Suburb
Photogrammetric Point Cloud of Las Vegas Suburb

Image Culture & The Right to Opacity

Hiding in Plane Site occupies the sparse suburban fabric within the southwest region of Las Vegas. Working from the visual and material culture established in the last 100 years of Las Vegas's existence, this project seeks to leverage emerging computer vision systems as a way to open up a new discourse about how buildings can engage with perception. In addition, the project uses images as material, and material as image as a way to address notions of entropy and lifecycles of buildings within the Las Vegas valley.




Skin - Printed Canvas Stretched over armature

Terrain - lifted landscape elements merged into roof topology
Structure - Mutations of the typical balloon frame
Interior Unrolled Perpsective
Interior Unrolled Point Cloud
ARCHITECTURE



Machine | Material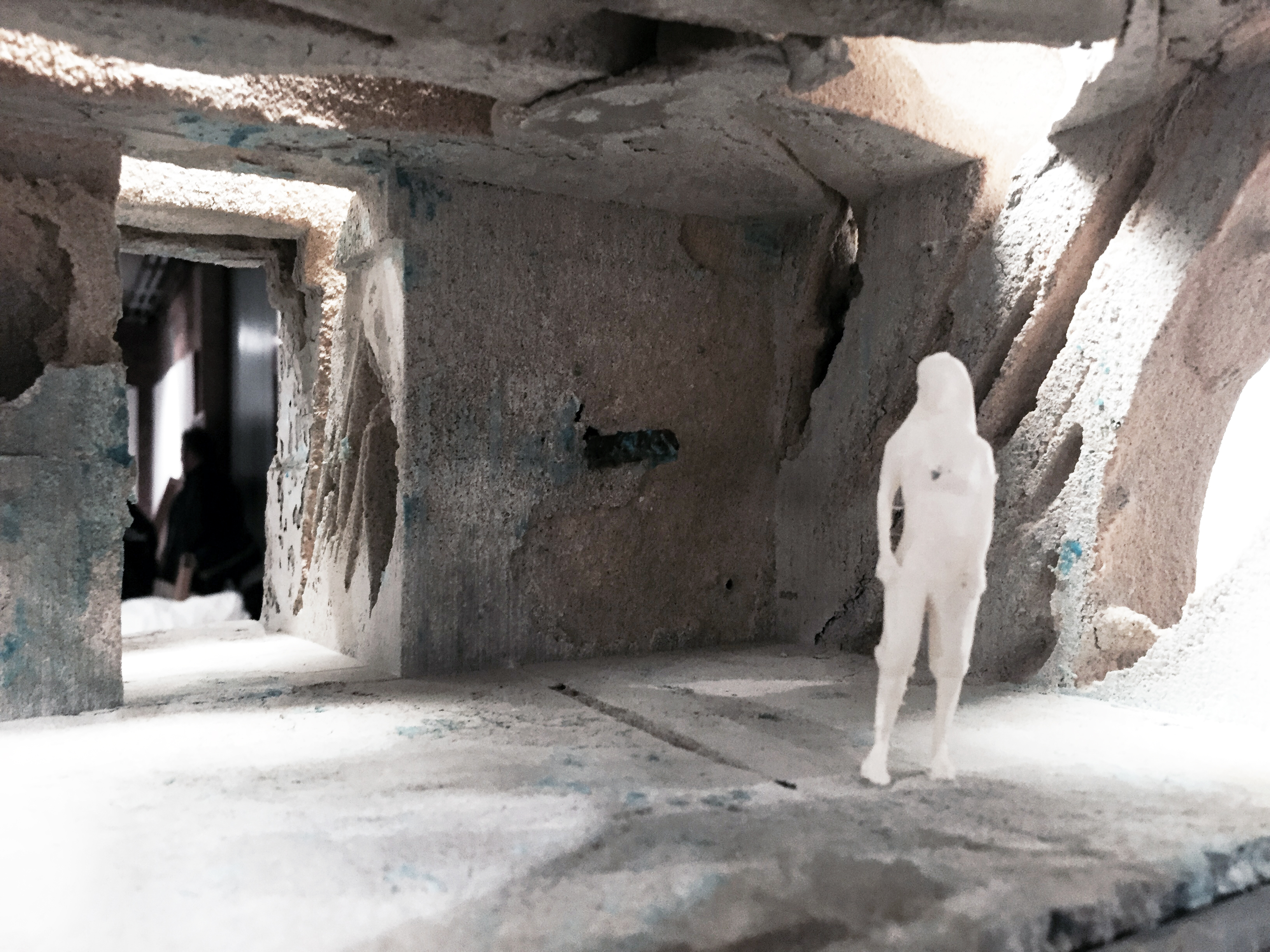 Left: exterior. Right: interior


The conditions for designing a machine are in close concert with the material that you want to manipulate.

The resulting tool is a sand and concrete deposition machine that utilizes a simple conveyor belt mechanism to push material into a series of tubes. The specificity comes from where the material is placed on the conveyor belt, which is controlled with a simple X-Y gantry.

Done
in collaboration with Sergey Pigach
Suspension Materials

The advantage of using machines for production is iteration. Iteration became very necessary, not only to work through technical details of the machine buildup, but also to investigate the material properties of cement powder with sand.

Unlike traditional cement casting, the technique demanded that the concrete is saturated after it is in the mold. The traditional paradigm in digital fabrication is either additive or subtractive manufacturing. This project proposes a method that exists somewhere in between, where sand acts as a suspension material while the concrete sets into place, and is then excavated later in order to produce voids. A substantial amount of effort went into exploration of how those voids can be more precise, and what the relationship to steel reinforcement would be.